Thursday, October 2, 2014 — We left Cedar Breaks feeling really happy to be in southern Utah. We drove northeast through the mountains and pretty groves of trees, past lakes and clusters of cabins. We stopped in Panguitch to poke around and grab some groceries. We were delighted with this small cowboy town! I tried so hard to find a pair of boots at the cowboy thrift store (it's everything you'd imagine it to be, and more!) but alias I came up short. Meanwhile Harry was busy making new friends.
Red Canyon "Campground"
Entering the Red Canyon in the Dixie National Forest en route to Bryce Canyon was amazing. The rock formations were truly beautiful in the light of the late afternoon sun. It's not every day that the road you're on goes through a rock arch!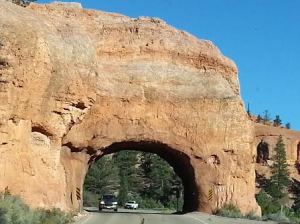 Believe it or not, it was still light out when we found our "campground" for the night. Well, it wasn't really a campground, it was actually just a random bit of land right off a Forest Service road. Although this is a totally legit thing to do, I can't say I was completely comfortable… all I could do was imagine Bigfoot walking around our site after we went to bed. But hey, the site was free and Harry was in his element, so there we stayed.
We were excited to be at our campground so early but once we realized how cold it was the fun factor dropped down a notch. I mean, it was really cold; the kind of cold where your hands are numb and all you want to do was go to bed, but it was too early to go to bed. Because it was still daylight. Had we followed our normal pattern to date, we would have arrived in the dark, just in time to go to bed. Ironic, eh.
Harry cooked us a delicious dinner on the camp stove, gathered firewood and then made a fire while I stood around complaining about being too cold (this is mostly true). Actually I was very busy keeping a look-out for strangers and Yeti.
The night finally grew dark and it got late enough for me to hunker down for the night. I was about to crawl into bed when (wait for it!) Harry asked me to check the bottom of our sleeping bags for SNAKES because, don't you know, snakes don't like being cold either. I pretty much flipped out on him for that one.
Spectacular Starry Sky 
There weren't any clouds in the sky, which made it even colder, but Harry was excited about seeing some amazing stars in the middle of the night. At first I told him not to wake me up (because I love to sleep, and I love to be warm, and I can be incredibly lazy at times), but I couldn't stand the idea of missing out on something so spectacular. We slid out of our warm bags at 3:00 in the morning and stood holding hands as we gazed in awe up at the Milky Way and a gazillion stars.
I woke up when Harry started the van to turn the heat on. Imagine waking up with your fleece hat pulled down over your face for warmth and frost on the windows, knowing that heat was on its way. That's love! I asked Harry if he would drive me to a heated restroom but he pretended not to hear me.
Bryce Canyon
The frosted ground gave way to blue skies as the sun rose. With much anticipation we drove into the National Park, paid a quick visit to the visitor's center and prepared to hike in the canyon.
The first view of Bryce took my breath away! The layers of red rocks were stunning and even more spectacular by the cloudless sky above. Bryce is distinctive due to geological phallic-shaped structures called hoodoos. We hiked three miles in the canyon via the Navajo Loop and Queen's Garden. Every step was incredible! Our trek was slow because we stopped to take so many pictures.
I really loved Bryce and it will forever remain one of my favorite places. I highly recommend visiting this special park!