It's no secret how much we loved our six weeks in Colombia. Here are a few facts, observations and rumors about this fantastic country that make it such a special place.
While many people still think that Colombia is too dangerous to visit, the truth is that remarkable strides have been made over the past 10 years to reduce crime and increase security. As a result, growth in tourism has been on the fast track. By some estimates, tourism is growing 12% per year, and it's predicted that by 2023 Colombia is expected to receive 15 million tourists. Join the movement, buy your ticket today and prepare to fall in love with Colombia!
Yes, it's true. Despite being "discovered" by Christoper Columbus, the country of Colombia spells its name differently than the magnificent Columbia River, Columbia Sportswear and all things "Columbia" that you'll find across the United States. The fine citizens of Colombia have had enough with everyone misspelling their name, so a year ago a digital-media executive helped create the "It's Colombia, not Columbia" marketing campaign. The campaign has picked up speed and now tens of thousands of Colombians are alert and ready to correct anyone on social media who gets it wrong. #itscolombianotcolumbia
We have found Colombians to be incredibly friendly. Along with Argentinians, they rank among the nicest people we've come across in South America. Colombians are lively and full of laughter. They love loud music and dancing. According to the Barometer of Happiness and Hope report, Colombia was the happiest country in the world in 2013 and 2014 (source: Colombia Reports). The culture of happiness here is remarkable given their violent and contentious not-so distant past.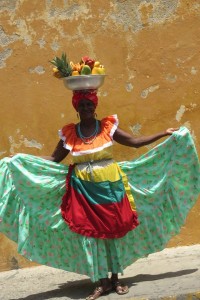 Colombia has been at war with itself for 50 years, one of the longest running civil wars in the world. There are several main players, including the drug cartels, right-winged paramilitaries, leftist paramilitary groups like FARC, and the government army. Over five million people, mostly from the countryside, have been displaced. Recent peace talks in Havana have led to a tentative treaty that will be voted on by the people in March. As you can imagine, this is a very complicated and emotional issue for Colombians. (photo credit: telesurtv.net)
On a lighter note, Colombians like to drink their coffee "tinto" (dark) and they buy it from vendors on the street corners, no frills attached. The Juan Valdez coffee shops that can be found in big cities cater to all the gringos looking for a Starbucks experience while in South America.
We've noticed more people of all ages, grandmas included, wearing national team futbol jerseys in Colombia than in any other country that we've visited in South America. Colombia qualified for the 2014 World Cup for the first time in 16 years and they surprised the world by making it to the quarterfinals. They eventually lost to Brazil, the host country, but they returned home heroes. The yellow, blue and red jerseys can be seen far and wide and represent the passion and pride Colombians feel for their country.
With mountains, jungles, coffee and cacao farms, deserts, modern cities and small pueblos, Colombia has it all. Sitting on both the Pacific Ocean and the Caribbean Sea, the country boasts over 300 beaches. Colombia is one of the most bio-diverse countries in the world with 340 different types of ecosystems. There are 58 National Parks here, which is the same number as the US.
There are only two seasons in Colombia: winter (the rainy season), and summer (the dry season). With that said, weather patterns are predictable and you can basically choose which climate you want to live in, year-round. Imagine having the same weather, month after month. Love the intense heat, relentless humidity and beautiful beaches? You should live in and around Cartagena on the Caribbean. Would you rather live in the mountains at 8,000 feet and wear a jacket as soon as the sun goes down at 6:00 every day? Move to Bogota. Or how about Medellin, where the days are warm and the nights cool. You pick.
Gabriel Garcia Marquez, Nobel Prize winner, was from Colombia. I felt so lucky when I came across a used copy of "One Hundred Years of Solitude" at my hostel. I had the absolute pleasure of reading it while spending time in northern Colombia, the setting of this wonderful book.
There are motorbikes all over the crowded streets of Colombia, from big cities to little villages. It's common to see drivers carrying an extra helmet in the crook of their arm because more often than not, they will pick up someone and serve as their taxi. In northern Colombia the only taxis available were motorbikes. When my friends and I wanted to go somewhere, a flock of drivers would show up, one for each of us. We'd put our backpacks on the handlebars and jump on behind the young driver (always a young driver!). This was my favorite mode of transportation in all of South America.
Colombia is ranked number six in world (behind the USA, Brazil, Mexico, Germany and Spain) for cosmetic surgery. Social pressures coupled with family support and affordable procedures make surgeries extremely popular here. Rumor has it that in Medellin there is even a free cosmetic surgery program in the city's poorest neighborhood. How about that? The medical students practice their skills while the people "benefit" from getting bigger boobs and butts. Going shopping? Don't forget to buy your padded undies to make your bootie bigger!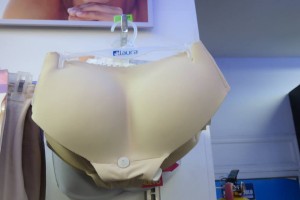 While futbol is the most popular sport in Colombia (duh!), its most traditional sport is called Tejo. This highly unusual game involves launching heavy, rock-like projectiles at a target surrounded by explosives. We had a great time playing this crazy game with our friends Liz and Alex while we were in Solento. To see what tejo is all about, check out Anthony Bourdain's short video. I think I know the perfect family-friendly activity to play at our next annual July 4th shindig in Michigan….
Well, have I convinced you? When are YOU coming to visit?